GLOBAL REACH.
IT'S IN THE DETAILS.
Global brand campaigns require big-picture thinking.
We handled even the smallest of details.
Building authentic stories for Gore's Employer Brand took us to exciting and remote locations across the US and abroad. During the process, we became guru's of the brand, or maybe sherpas... well you get the idea.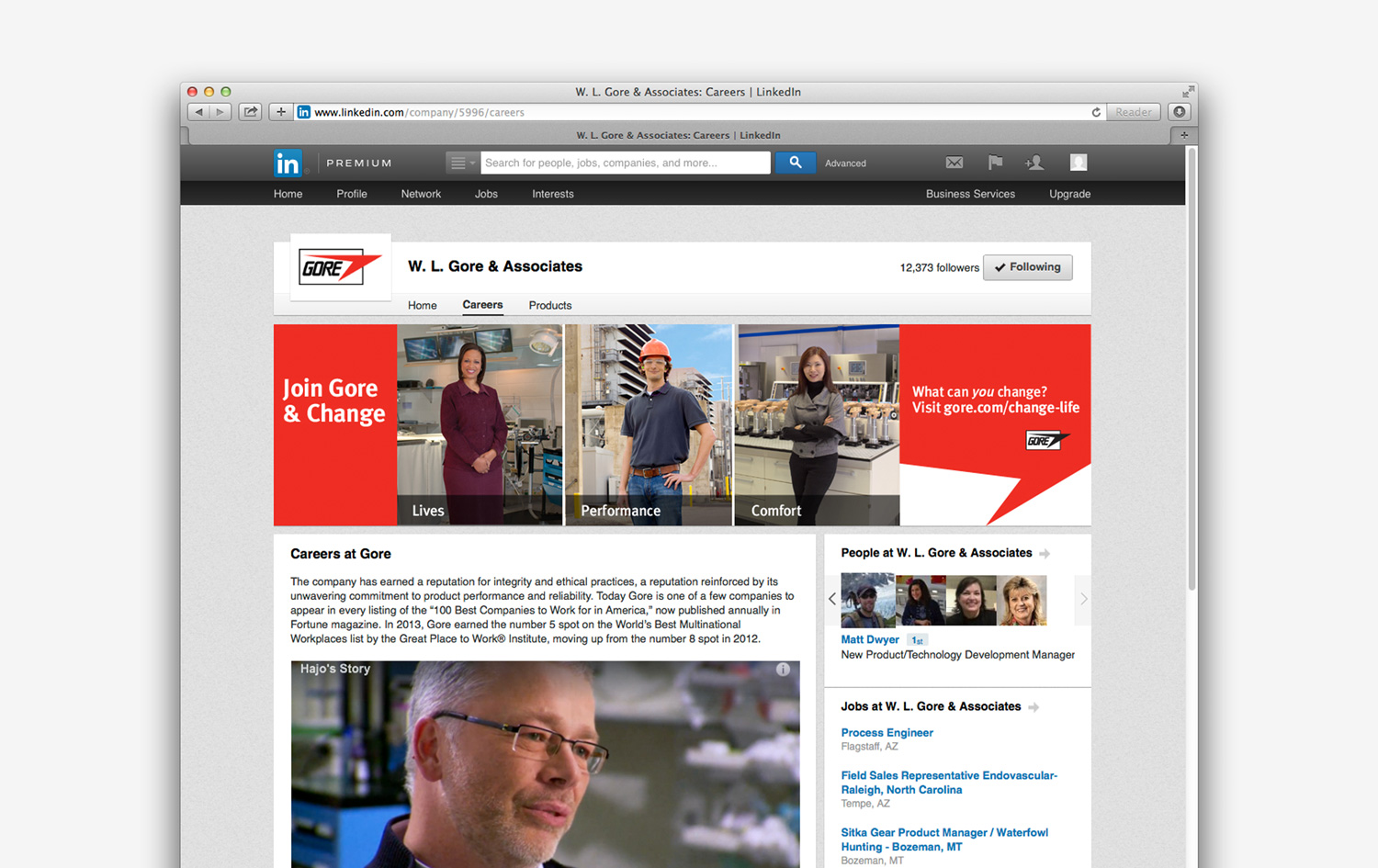 ASSOCIATE STORIES
Strategically it makes a lot of sense to shoot video during a photo shoot. So we did. Designed to integrate perfectly into the whole campaign these associate stories appear online, on mobile, in presentations, and at job fairs.
ADVERTISING
Gore is a complex company in its organizational structure as well as its diversity of products. The Employer Brand is responsible for representing all of Gore's unique attributes, culture, markets, product lines, and help you identify if you are a fit. We made it happen.
EMPLOYER BRAND HANDOUTS
Gore has been one of Fortune 500's Best Places to Work, for fifteen years and running. Gore goes to great lengths to help candidates figure out if they are a good fit. We developed a series of handouts designed to help interested candidates learn more during the process.
EXPERIENTIAL BRAND ENVIRONMENTS
Crafting a brand message to be as portable as these booths, is second nature to us. We have more than two decades of experience designing and building brands and exhibits. This set of nine exhibits was custom designed and built with various options for national and global use. Complete with a branded carpet, custom product displays, interchangeable fabric graphics, dimensions up to fourteen feet high and twenty feet wide – and all that in a portable display that's a completely integrated part of the brand. Yeah, we do that.
OUTDOOR ADVERTISING
Every touch point is considered when developing comprehensive brand standards and their guidelines. In this case we considered downtown street side advertising as an option.
EMPLOYER BRAND FRAMEWORK
Global rollout of the Employer Brand Framework was presented as a Prezi – available online as well as on a DVD.